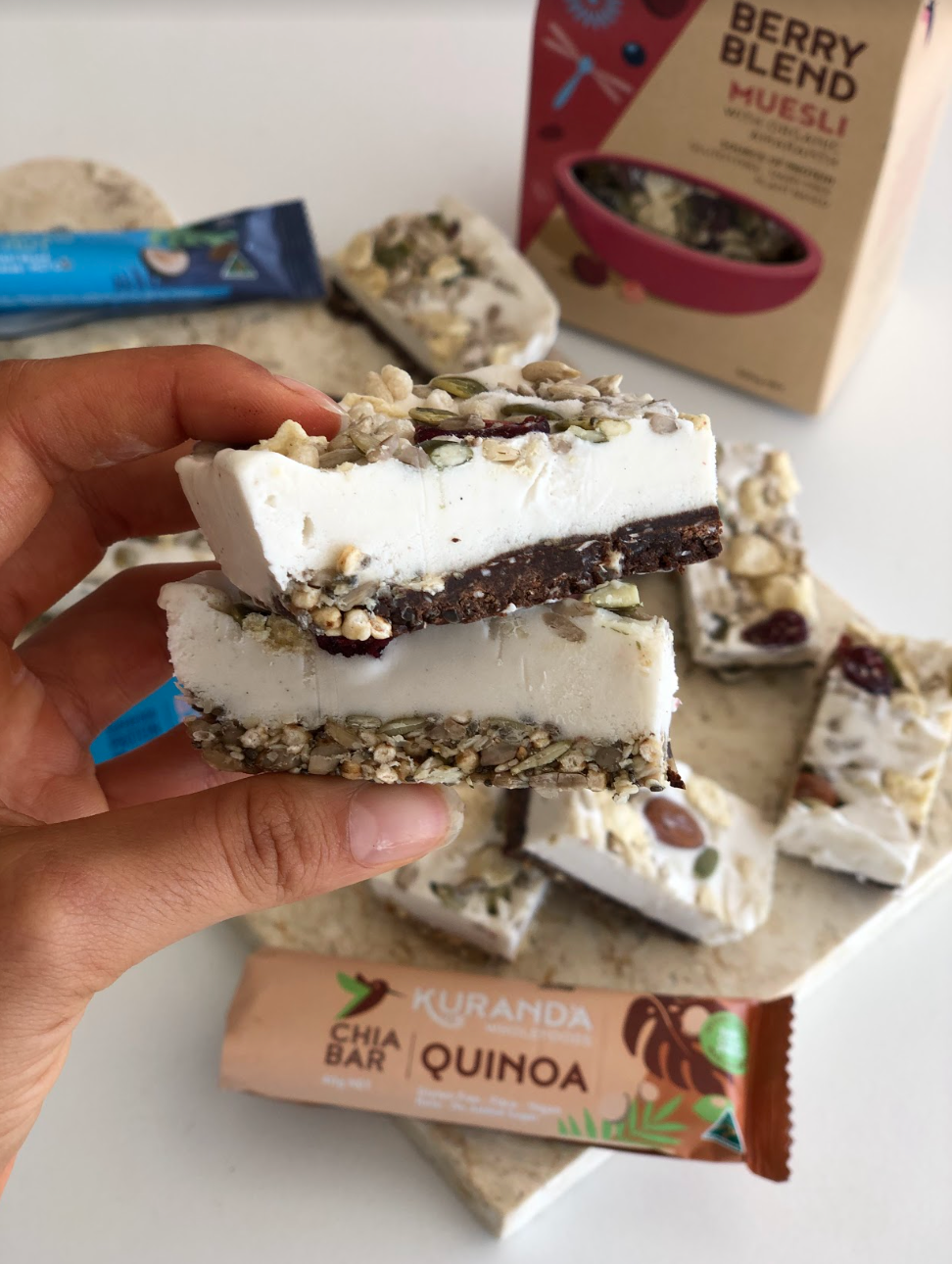 ice cream sandwich recipe
INGREDIENTS:
1 x KURANDA CHIA BAR - QUINOA
1 x KURANDA PROTEIN BAR - CACAO NUT
1 x KURANDA PROTEIN BAR - BERRY NICE
1 x KURANDA NUT BAR - CASHEW & ALMOND
1 x KURANDA MUSELI - BERRY BLEND
ANY ICE CREAM OF YOUR CHOICE
view
Kuranda Gluten Free Bars & Snacks
There are countless reasons why it's important to look after your health. Not only will you feel better, but you can also benefit from an abundance of energy. If you want to fuel your body in the best way possible, healthy snack bar products are recommended to give the body the nutrients it needs to function optimally.
Welcome to Kuranda Wholefoods – a trusted wholefood snack shop that can provide you with the best protein snacks Australia wide. We stock a huge selection of all natural healthy energy bars and other wholefood snack products that our customers can rely on for being ethically sourced and produced. We understand how hard it can be to buy nutrient bars and other healthy snacks, which is why we've made it our mission to be a convenient one-stop wholefood snack shop that can meet your needs with a fantastic range of healthy options.
Why Choose Our Healthy Snacks?
Kuranda Wholefoods strongly believes that following a nutritious diet is a great way to promote better health. Our prebiotic wholefood bars and other snack options contain all natural ingredients that work to enhance the body's health and vitality. All Kuranda gluten free bars contain a low amount or no added sugar, as well as no wheat, dairy or man-made preservatives that can have an impact on the body. Our low sugar snack bars are made in-house by our team of health experts and can be consumed as part of various types of diets, including vegan, paleo, low sugar or sugar free, low fructose and low salt diets.
Since opening for business in 2006, our Sydney based healthy snack bar shop has made it
easy to buy wholefood bars Australia wide. No matter where you're based, all of our healthy snack bar and food products can be conveniently delivered to your door with free shipping for over $100 orders.

Place Your Order Today
Have you been wondering "where can I buy nutrient bars and other healthy snacks near me?" Look no further than Kuranda Wholefoods. Feel free to browse through our wide range of healthy energy bars for sale Australia wide. You can also give us a call on (02) 8883 0884 or submit an online enquiry.